LARGEST RANGE OF CRAZY PAVING IN AUSTRALIA
Crazy paving pavers specialists- Summer specials and crazy paving sale up to 70% off recommended retail prices for Melbourne, Sydney, Brisbane and Adelaide

Crazy Paving provides stunning ranges of natural stones.
These natural Crazy Pavers stones are popular amongst Australian Homeowners.
Browse our collection of stepping stones, bluestone, sandstone, granite, quartz & slate crazy pavers.
Suitable for both indoors and outdoors areas such as patios, garden area, pool area, driveways, fire pits and other similar areas. For more information please give crazy paving a call at 03 9706 9767.
VISIT OUR IMAGE GALLERY FOR YOUR PAVING IDEAS AND GET INSPIRED
WHATS AWESOME ABOUT WHAT WE DO
FREE SAMPLES- Simply order your free sample and we will deliver it FREE
WHOLESALE PRICES DIRECT TO PUBLIC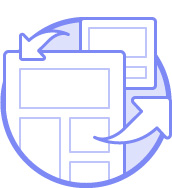 SPECIALIST ADVICE BY QUALIFIED STONEMASONS
LARGE STOCK HOLDINGS TO MEET DEMAND
DELIVERY DOOR TO DOOR THROUGHOUT AUSTRALIA
AUSTRALIA'S BEST VALUE FOR MONEY STONE PAVERS & TILES
ESTABLISHED IN 1986, we are AUSTRALIA'S Largest Natural Stone Paving Supplier! From there, we decided that they could fill this hold in the market and begin learning about the slate and stone industry. The business goals were to be the experts on natural stone and supply in a consistent, timely and cost-effective way, keeping the customer's interest in mind.
It has been more than 30 years now and we are growing more and more every year, but never compromised on our values and trust of our customers. And we will continue to deliver as long as we can the best and quality services to our priceless customers. We continue to offer FREE SAMPLES delivered to your door to enable you to see and feel the stone prior to purchase.
"We are not here to just run our business but mainly to contribute a bit to build your beautiful dream home."
We deliver our Natural Stone pavers and tiles door to door in Melbourne, Sydney, Brisbane, Adelaide and to ALL country towns.
Looking for other types of natural stone pavers and tiles in Bluestone, Sandstone, Travertine, Limestone, Granite or Marble? Visit our sister stores: Stone & Slate Discounts & Stone Pavers Australia.