LARGEST RANGE OF CRAZY PAVING PAVERS IN AUSTRALIA
Crazy paving and flagstone paving are both popular choices for adding a touch of natural beauty and charm to outdoor spaces. They offer a unique and rustic appeal that can transform any area into a visually captivating landscape.
Crazy paving is characterized by irregularly shaped stones that are laid in a seemingly random pattern. This type of paving allows for creativity and flexibility in design, as it embraces the asymmetry and uniqueness of each stone. It creates a visually striking mosaic effect that adds character and a sense of artistic flair to pathways, patios, and garden areas. Crazy paving is often installed in courtyards, gardens, and outdoor entertaining spaces, where its organic and whimsical appearance can be fully appreciated.
On the other hand, flagstone paving is known for its flat and smooth surface, typically made from natural stones like sandstone or limestone. The stones are cut into regular shapes, creating a more uniform and structured look. Flagstone paving offers a timeless elegance and sophistication that suits a range of architectural styles, from traditional to contemporary. It is commonly used for pathways, driveways, and pool surrounds, where its durability and slip-resistant properties make it an ideal choice.
Both crazy paving and flagstone paving provide numerous aesthetic benefits. They bring a sense of authenticity and natural beauty to outdoor spaces, blending harmoniously with the surrounding environment. The varying colors, textures, and shapes of the stones create a visually interesting and dynamic landscape. These types of paving also offer versatility in design, allowing for different patterns and arrangements to be created, enhancing the overall aesthetic appeal of the area.
In summary, crazy paving and flagstone paving are versatile options for adding charm and visual interest to outdoor spaces. Whether you prefer the artistic and whimsical look of crazy paving or the timeless elegance of flagstone paving, these choices can elevate the aesthetics of pathways, patios, driveways, and various other areas, creating inviting and enchanting outdoor environments.
Browse our collection of stepping stones, bluestone, travertine, sandstone, granite, quartz & slate crazy pavers.
Suitable for both indoors and outdoors areas such as patios, garden area, pool area, driveways, fire pits and other similar areas. For more information please give crazy paving a call at 03 9706 9767.
VISIT OUR IMAGE GALLERY FOR YOUR PAVING IDEAS AND GET INSPIRED
WHATS AWESOME ABOUT WHAT WE DO
FREE SAMPLES- Simply order your free sample and we will deliver it FREE
WHOLESALE PRICES DIRECT TO PUBLIC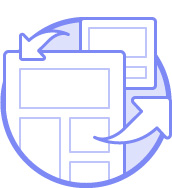 SPECIALIST ADVICE BY QUALIFIED STONEMASONS
LARGE STOCK HOLDINGS TO MEET DEMAND
DELIVERY DOOR TO DOOR THROUGHOUT AUSTRALIA
AUSTRALIA'S BEST VALUE FOR MONEY STONE PAVERS & TILES
ESTABLISHED IN 1986, we are AUSTRALIA'S Largest Natural Stone Paving Supplier! From there, we decided that they could fill this hold in the market and begin learning about the slate and stone industry. The business goals were to be the experts on natural stone and supply in a consistent, timely and cost-effective way, keeping the customer's interest in mind.
It has been more than 30 years now and we are growing more and more every year, but never compromised on our values and trust of our customers. And we will continue to deliver as long as we can the best and quality services to our priceless customers. We continue to offer FREE SAMPLES delivered to your door to enable you to see and feel the stone prior to purchase.
"We are not here to just run our business but mainly to contribute a bit to build your beautiful dream home."
We deliver our Natural Stone pavers and tiles door to door in Melbourne, Sydney, Brisbane, Adelaide and to ALL country towns.
Looking for other types of natural stone pavers and tiles in Bluestone, Sandstone, Travertine, Limestone, Granite or Marble? Visit our sister stores: Stone & Slate Discounts & Stone Pavers Australia.