There are many ways you can lay crazy pavers!
Crazy pavers gets its name from the fact that the paved area looks quite natural and random once the natural stones are installed. For some people, crazy paving is a way to enhance the curb appeal of their home by adding a traditional décor element to their exteriors. For others, it is just an affordable and easy form of paving. Either way, crazy pavers have become quite common lately. Many people install some random sizes and types of natural stones in their exteriors to create a retro-inspired look.
From a homeowners' perspective, the installation of crazy pavers seems an easy task. However, it is challenging for contractors to install each stone without aligning them. They also have to maintain the same level of distance between each paver. Upgrading your home with crazy pavers is the easiest way to enhance the value of your home. So, in this post, we talk about the places you can lay crazy pavers.
Patio
You could definitely negotiate a higher price for your home if you have a paved patio. Even if you are not willing to sell your property, crazy paving on your patio will help you use your exterior space for some quality time and fun activities.
Crazy pavers consist of different types of natural stones. You could use bluestone if you have a strict budget or opt for sandstone if you want to pave the area around your swimming pool. Do you know patio happens to be one of the top things the home buyers consider when buying a home? It brings attention to your outdoor area. A circular pattern paving is quite common in patios. However, we will recommend crazy paving if you want something unique and traditional.
Pool Coping Tiles
Pool coping is a must if you have a swimming pool installed. Not only for the home's value but installing premium pool coping pavers around your swimming pool will enable homeowners to organize parties and get-togethers. Of course, you will want to sit by the pool and relax during summer days.
Installing our sandstone crazy paving natural stones will help you retain the retro-inspired theme of your outdoor area.These natural stones allow you to lay, sit, and relax by the pool during summer. This can be a great function area where you can invite your friends and colleagues over for a party near the pool.
This area occupies a significant space in your front yard. So, it definitely enhances the curb appeal of your home. Most homeowners choose split stones for driveway paving. These stones are sturdy and weather-resistant. They can last for years without showing signs of wear and tear.
Besides, crazy pavers have the potential to endure vehicle traffic. Now, crazy pavers are available in dark and light tones. For driveway pavers, the dark natural stones will be the best option since they can resist stains from liquid spills.
Garden and Backyard Crazy Pavers
Another common place you can pave is your backyard. Many homeowners organize their formal and informal parties in the backyard. So, if you use your front garden or backyard frequently, then it makes sense to consider a small paving investment. Crazy paving is the cheapest way to decorate your garden area.
You can even DIY the crazy paving steps to design your front and backyard on your own. All you need it a bunch of crazy pavers. Install them in a random and free-flow manner to create a crazy paved look. Start with the larger slabs of the natural stone and use small stones to fill the gaps. There you go! Your paved garden is ready. You can place a couple of chairs and exterior furniture sets to spend some quality time in the garden.
Walkway and Stepping stones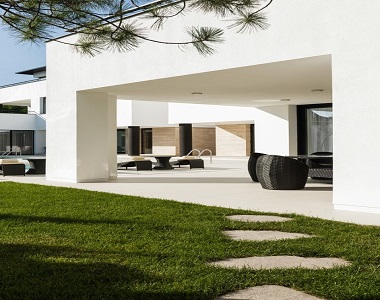 Many types of natural stones are available as pavers for your walkway paving requirements. These crazy pavers are available in small and large sizes, making your area quite attractive. These pavers enhance the visual appeal of your garden. Now, if you would like to install the stepping stones on the walkway, then consider crazy pavers. They are easy to install, cost-effective, and sturdy. Most importantly, crazy pavers add a natural touch to your exteriors.
They look magnificent in your garden. Crazy pavers offer a durable, stunning, and non-slip surface. These are the reasons why natural stones are chosen as stepping stones for high-traffic areas. If you would like to add a natural element to your walkway, then crazy pavers will be the ultimate choice.
Conclusion
Crazy paving is the best option if you are looking for a modern and stylish look for your pavers. They are recently gaining popularity among Australian Homeowners because of there crazy, random and mesmerising look.
The most popular crazy paving natural stone is bluestone, sandstone and quartz. However, there are people who prefers other stone tiles style based on there colour preferences that match the styling of their home.
If you are based in Melbourne, Sydney, Canberra, Adelaide, Brisbane, Hobart, Geelong or anywhere in Australia and looking for crazy pavers then there is no better place than CRAZY PAVING AUSTRALIA. We offer great quality crazy paving for the cheapest prices in the market.
We provide express posted FREE SAMPLES + FREE STONEMASON ADVICE + Door-to-door Delivery Australia-wide. You are just a phone call away from all the DISCOUNTS we have to offer. Call us today on (03) 97069767 and get a FREE Quote on your pavers.
Get some laying ideas from our stunning collection- crazy paving gallery.
Simply contact us and get your FREE Samples delivered at your doorstep.
Feel free to visit our sister stores for more tile varieties: Slate Discounts & Stone Pavers.